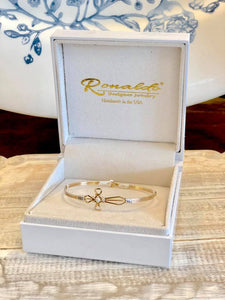 "Jesus Loves Me" bracelet - "Jesus loves me, this I know.  For the bible tells me so!"
Ronaldo had precious children in mind when he created this beautiful bracelet.
Incorporating a Swarovski Crystal Pearl  into the center of a cross, this unique two-tone
design reminds us of Jesus' sacrifice to wash away our sins. 
"Let the little children come to me, and do not hinder them,
for the kingdom of heaven belongs to such as these."  Matthew 19:14